For exclusive release to Wood & Wood Products
Copyright © October 22, 2012 Woodworking Network – Vance Publishing
Media contact: Lynn Gorman 352-489-4788; lynn@gorcomm.com

Everyone Pitches in to Bring Computer Integrated Manufacturing Classes to a Rural High School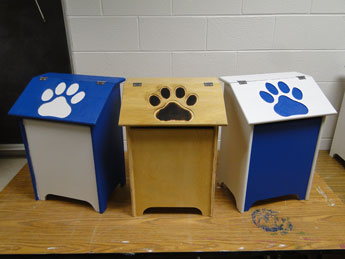 [JACKSON, KY – JULY 2010] For nearly a decade, Ken Combs taught computer-aided drafting classes at Breathitt County High School in rural Jackson, Kentucky. One of the highlights of his program was taking students in his classes to the University of Kentucky's Wood Manufacturing Lab, also located in Jackson. There his students would be given their own workstations so that they could take some of the 2D designs they had created in AutoCAD (from Autodesk, Inc., San Rafael, CA), import them into Mastercam (from CNC Software Inc., Tolland, CT), create CNC toolpaths, and finally manufacture their designs on the lab's large CNC router.
This exposure to a complete manufacturing environment within a single educational lab was an eye-opener for Combs. After attending one of these labs, he thought, "This is an experience our students should be having every day, not just once a year." Several years ago he got the opportunity to make that wish a reality when the school's veteran shop teacher retired and Combs was asked to take over his shop class.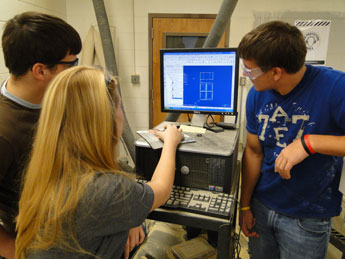 Soon he was lobbying the administration to purchase a CNC router and the CAM (computer-aided manufacturing) software to program it. In 2007, they agreed and cut a purchase order for the equipment. However, the manufacturer declared bankruptcy shortly afterwards, and the school department was out the money and had no equipment to show for it.
To its credit, the school administration allowed Combs to go shopping again in 2009. This time, industry leaders were chosen to supply the equipment and software – a Techno Router (manufactured by Techno, Inc., New Hyde Park, NY) and Mastercam X4 CAD/CAM software. The arrival of goods, along with extensive technical support and training at the start of the school year, marked the beginning of Breathitt County High School's Computer-Integrated Manufacturing class.
A Good Start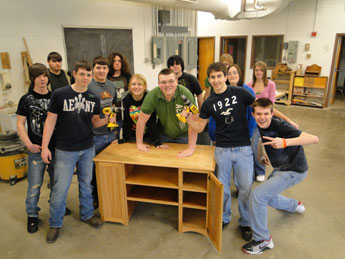 With the exception of his limited experiences at the University of Kentucky, Combs had no experience using the CNC equipment or CAM programming software. Combs needed some assistance. Techno's James Renner came to the school early in September and worked with Combs for a day before the machine was delivered. He emphasized the importance of getting the router and software working together flawlessly before training so that no valuable time would be consumed solving problems.
Next there was support provided by Dan Newby and others from Mastercam. Those guys were great. "Between e-mail, callbacks, and me calling them, they helped me for hours and hours to get this thing up and running before our Techno Router arrived," Combs said.
Because of his proficiency with AutoCAD, Combs had no difficulty mastering the basic concepts of the CAM software. He thought the interfaces were remarkably similar.
About a month after his initial visit, Renner returned to provide Combs with a day of hands-on training. Then Combs was ready to launch the new program with the comforting knowledge the support from his new suppliers was only a phone call away.
Everyone Pitched In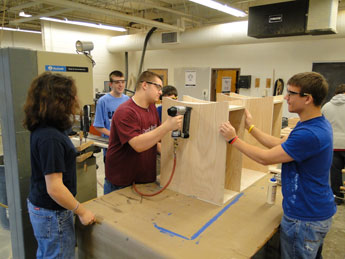 He was not entirely without resources. For example, the administration made a major contribution by changing the class schedule from single one-hour periods to double periods. This eliminated half of the setup and cleanup work that unavoidably consumes a lot of class time, giving students more of an opportunity to immerse themselves in their work.
Some of Combs' 25 students also proved to be invaluable resources. A number of them were recruited from his drafting and conceptual design classes. "I said to them 'Hey if you like drafting, how would you like to actually learn how to draft and then go build it?' "
These students would be the lead CAM programmers and CNC equipment operators. One of their main assignments was to study the excellent manuals and training materials provided by Techno and Mastercam, and figure out how these new systems could be quickly integrated into classroom project.
The computer-integrated manufacturing class also received a significant gift from a local tool and building supply distributor (Hardwood Specialties, Lexington, KY) which donated a truckload of slightly damaged wood for the students to practice on. As a display of gratitude, the students made a four-foot sign in the shape of a table saw blade, that is now prominently located at the company.
Bringing Projects to Life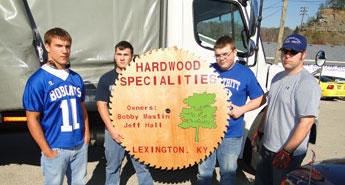 Soon, Combs and his students were getting into high gear with class work and starting to make objects that could be sold to offset the cost of the students' projects. He said, "We are in a rural area of eastern Kentucky. Very few kids have 100 or 200 bucks to drop on a wood project. So we did a fundraiser in the fall. We designed a potato and onion bin. On the lid we engraved a bobcat because we are the Bobcats.
"We made 30 to 40 of these, painted them up, some of them clear finish, and we've been selling them at ball games, and e-mailing people. If we can sell them all, that will make a big contribution toward every kid's individual project. So they'll only be out of pocket about $25 and they'll have something they can keep for the rest of their lives."
And just what would that something be? Combs gathered his students around the blackboard for a brainstorming session about what to make for their class project. The top two contenders were a computer desk and an entertainment center. Then it occurred to them that they could design a unique piece of furniture that could be adjusted and used for either purpose.
The design they arrived at was so attractive that a number of teachers have expressed interest in purchasing one for their own use. Consequently, the class will over-produce them so that sales of the additional items will allow the students to take their own work home without incurring any additional costs.
Just Like Manufacturing

The winter of 2010 turned out to be one of Kentucky's worst. Snowstorms and blizzards that normally stay up north visited the region en masse. The students had lost nearly two weeks of class time before March was over. If they were going to get all of the projects completed and have enough additional units to sell to other interested parties, it would be necessary to ramp up their productivity.
The shop only has one CNC router but plenty of conventional equipment including band saws, table saws, and hand tools. A plan was devised in which the router would be used to make templates and relief cuts that would serve as guides the students could use for cutting and drilling parts with conventional equipment. So, using all the resources available, the shop has been set up as a complete manufacturing operation from design to CAM programming, to CNC machining, to conventional cutting, to final assembly and finishing.
"We're all learning together," said Combs.  "The more advanced students are doing all the toolpaths and cutter comp, setting up the table and spool bores, then running the files and the machine. The other kids - some on the band saw and some on the table saw-- are cutting dados and rabbets, finalizing arcs predefined on the CNC machine, then engraving." 
This is now the "Bobcat Workshop", so every piece of this unique furniture design is proudly engraved with a bobcat image. "Then we are taking those pieces into an assembly process so we can mass produce our furniture--just like in manufacturing," Combs concluded.
Combs and his students feel very good about their accomplishments learning new technologies and integrating them into their class work in ten short months, but what would an independent expert have to say?
Combs recently e-mailed James Renner some photos of the work his students were producing, and the Techno executive was very impressed. He immediately wrote back to Combs:
"There are a lot of teachers out there that are either afraid of the technology or have a machine and Mastercam and don't know how to get started. I wrote the book for those teachers. I want them to at least have a fighting chance of success…  I want you to know how proud of you I am.  You have learned more in a few months than some instructors I know who have had the machine for years."
As Combs was helping his students race to the finish line, he was also giving some thought to what he might do to bring his program up another level next year.