Published on
Feb 11, 2013, by University of Waterloo School of Architecture
Composites can perform multiple functionalities at the same time and can be largely customized through CNC fabrication processes. Within the architectural domain, design and fabrication research in composites could provide the opportunity to develop buildings as complex systems which simple constituents could physically interact performing multiple functionalities at the same time as a whole. By shape, the functionalities of structure, habitable space, and skin might become integrated.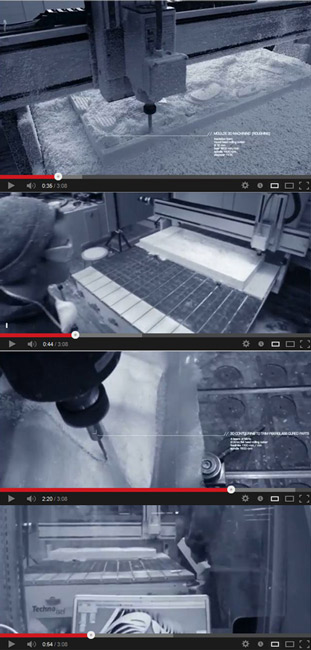 However, adopting composite materials in architecture would require smart designs capable of expressing the nature of the materials as well as the CAM processes employed for their manufacturing. Hereby, integrating fabrication logic as parametric variable of the design becomes crucial to produce large, detailed parts of complex geometry in a fast and precise manner. Developing completely automated manufacturing processes is an especially critical aspect.

In this pursuit, one of the challenges of our agenda was to research composite building systems of complex geometry with integrated connection details designed as to be fabricated using a simple small-size 3 axis CNC router. In 3-axis routers the cutting tool cannot be always normal to a complex surface. Such a constraint has great impact on the design and fabrication process; however, if it is regarded as an operative variable, great design opportunities are open for exploration.


Such exploration has been at the core of the research agenda of the deep FORMATIONS Design Studio directed by Marco Verde, Adjunct Assistant Professor at the School of Architecture of the University of Waterloo. Along the course, students have got especially close to matter and fabrication in order to
understand design and fabrication as strictly entwined aspects of a unique process. Final aim of the course was to design, detail and prototype adaptable construction systems in composite materials pursuing scalable and fast fabrication processes as well as clean assembly strategies.

For this purpose, the Techno CNC Router at our disposal at the DLAB at the School of Architecture has been a perfect companion. Simple calibration and control, a user friendly touch screen, and no-downtime due to mechanical issues allowed to get the machine ready to execute a variety of 3D processes such as roughing and finishing of complex moulds and final 3D contouring to cut parts off the moulds. The entire process has been extremely precise and parts produced where clean and immediately ready for assemblage.

Indeed the machine employed was among the smallest machines offered by Techno Inc., however it made the entire processes reliable and supported the prototyping of precise corroborative prototypes made of small-size, complex, interlocking composite parts in a smooth manner. Finally, the flexibility of Techno CNC Router greatly contributed to the achievement of extraordinary results in a very limited amount of time.