William Grothus & Gregg Helmich. Forest City HS, Iowa - Appeared in Tech Directions Magazine - March, 1999
Iowa High School Students Learn Business Skills in Shop Classes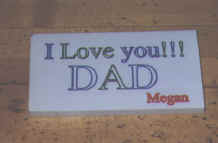 Two Iowa secondary schools are teaching lessons about entrepreneurship and life disguised as shop classes. Gregg Helmich, teacher at Forest City High School, Forest City, Iowa, and William Grothus, teacher at Black Hawk Junior High School, Pleasant Valley, Iowa, have independently developed remarkably similar programs in which students build useful products using inexpensive but powerful CNC machines and then market them with the goal of developing their business skills. Both programs have been remarkably successful with the students earning far more than their cost of materials while learning both CNC as well as some important lessons about the role of the businessperson in today's society.
Forest City High School manufacturing technology students formed a company to design, build and sell key chains with the school symbol, an Indian. Students came up with the idea on their own after discussing the potential market for a number of different products that they had conceived. The students developed a flow chart that included all of the activities need to make and sell the key chains. They start with 2-inch diameter plastic rod and slice it into ¼ inch wafers with a band saw. The wafers then go through several stages of sanding, buffing and polishing before they are ready for the key operations that engrave the design.
The Indian head design was first drawn by students in an art class, then converted to an electronic model by students in drafting class using computer aided design (CAD) software. A few simple conversions and the design was turned into a program that controls a computer numerically controlled (CNC) gantry mill from Techno, New Hyde Park, New York. The DaVinci CNC mill, which costs less than $6000, can mill virtually any design that can be drawn on a computer in wood, plastic or soft metal. Despite its low cost, the machine is a standard product used by Techno industrial customers as well as educational institutions. It possesses 0.0005 inch resolution, a top speed of 140 inches/min., and is used by many manufacturers of millwork, kitchen counters, industrial models and patterns, and a wide range of other wood and plastic components.
The students sold the Indian key chains for $2 and did special designs for $5. Sales were far higher than the student's estimates and could have been higher still if the students had been able to produce more of the chains. The sales covered all materials costs and with part of the profits students had a breakfast party during one class period. Echoing modern business practices, the top student salesperson received a bonus. "It's been one of the most rewarding classes I've eve been involved in because the students took charge of everything and I merely served as an advisor whenever they asked me for help," Helmich said. "We truly created a mock business. I'd be willing to bet that these students are going to be more inclined to create a business of their own later in life because of the positive experience they had in this class."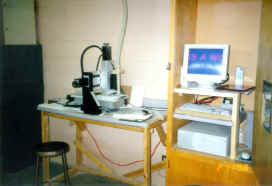 William Grothus has focused his wood shop classes more on learning by doing than on entrepreneurship yet the lessons learned seem to be similar to the Forest City example. He saw his students becoming interested in computers and wanted them to understand that a computer was not just good for storing knowledge but also for building things. He convinced the district to purchase the DaVinci CNC machine primarily by positioning it as a device to help students increase their computer skills. This was no exaggeration -- the machine fabricates the part that has been created in software to a tee, challenging the students to increase their computer skills in order to raise the beauty and utility of the objects that it produces.
The DaVinci CNC mill is an industrial machine that is affordable by educational institutions. The DaVinci has various sizes available, from eight inches to 10 inches travel as the smallest to machines big enough for a full sheet of plywood or larger. The table for the clipboard and Corian products of Mr. Grothus is 10 inches by 12 inches. Because of its relatively large travel, accuracy and speed it can be used to make "real" parts and not just wax models. This motivates students to learn because there is a true sense of accomplishment and ownership. Thus, using the DaVinci CNC mill provides a tool for teaching not only CNC and CAD/CAM skills but design, entrepreneurship, computers, math, teambuilding and problem solving. It also enhances creativity.
When the CNC machine was first delivered by Techno distributor Midwest Tech of Madrid, Iowa, Grothus gave his eighth grade class the assignment of building a treasure chest using hand tools, then programming and machining an original design on its cover. This assignment fits well with Grothus' opinions on the future of education and technology. "I have to admit that I am of the old school of skill," Grothus said. "I am also of the school of knowledge. You need both. But if you only have technology knowledge, such as the World Wide Web, what are you going to with it? Search the web, find it and do what with it?"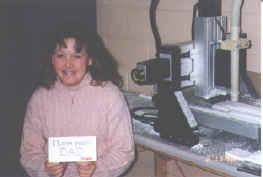 "I delight in teaching and doing. I feel that I am meeting the challenges of the future, if the students will just cooperate," Grothus said, "but I do not see abandoning the old arguments and skills. One of my values is doing things in class rather than just learning. My class is the only one in school where the boys and girls come into the room and say: "Do we get to work today?" Learning by doing is the best way to learn. Another value is driving a nail with a hammer. If 90 degrees is not technology, I do not know what is. Habitat for Humanity enjoys the hammer and nail skill and so does everyone that lives in the house."
Because of their age, the entrepreneurial instincts of Grothus' junior high school students are not quite as advanced as the Forest City High School youth, but the potential is there. Grothus started by challenging several of his best students to make something on the machines and sell them for a profit. He enlisted a local kitchen/custom bathroom remodeling company to contribute scrap materials The kids are just getting started producing engraved signs made out of Corian, ornaments and clipboards. Grothus has challenged one of his more motivated seventh graders to gross $1000 over the next year and has no doubt he can do it.
Both Grothus and Helmich agree that the primary benefit of introducing entrepreneurship in wood shop class is opening up their students eyes to what they can accomplish if they set their minds to a task and obtain the right tools and knowledge. "The gantry CNC mill motivates students to learn because there is a true sense of accomplishment and ownership," Grothus said. "Using the DaVinci mill from Techno provides a tool not only for teaching CNC and CAD/CAM skills for also design, entrepreneurship, computer math, team building and problem solving. If you want x, y, and z coordinates, they are right there on the machine." Helmich said: "It's wonderful to see the look in kids' eyes after they have spent a few hours learning how to do something and end up with a tangible product that someone is willing to pay money for. They see that there is no limit to what they can produce and, for many of them, that feeling transfers over to increased self confidence and sense of their own potential."
William Grothus & Gregg Helmich. Forest City HS, Iowa - Appeared in Tech Directions Magazine - March, 1999