AFFORDABLE CAD/CAM SERIES
Techno-isel Servo CNC Milling Center Used At Prairie HS To Teach State-Of-The-Art Manufacturing Skills
Cedar Rapids, Iowa -- Because College Community Schools are located in a highly industrial area with companies like Rockwell, Midland Forge, Square D, General Mills, Kodak, ADM, Evergreen and PMX, three years ago the district began to focus on the needs identified by local industries as critical for entry level employment. As a result, Prairie High School, Cedar Rapids, IA, has moved away from the traditional Industrial Technology instructional programs toward a focus on the skills needed to work in manufacturing, power and energy, pre-engineering, and related technologies careers. Most program decisions have been guided by the incorporation of quality concepts, team involvement, and a continual quest for improvement in teaching these technologies. With a commitment to those needs, the instructional staff, supported by a 35-member advisory committee, worked with administration to set new direction for the Industrial Technology program. Career options have been structured to promote the process of self-directed learning, and instructors in the vocational technical areas have promoted a continuous improvement philosophy where students are not expected to reach minimum standards, but to excel beyond all others. Although some activities are completed to a second-best level, the goal for all students is to be and to do their best.
Having computer based learning of technology is not a new concept in the district, but the level of technological capability has increased. In the past students learned the concepts of computer numerical control (CNC) based on desktop machines; unfortunately, they were too small and did not reflect simulations of the actual work environment. Concepts of CNC working in six inches of travel in an X, Y, Z could be taught, but they did not represent a true industrial setting. With the purchase of the new Techno-isel CNC milling machine in 1995, students gained the opportunity to learn on state-of-the-art equipment that is found in small businesses with process capabilities similar to those on the typical shop floor.
The Techno-isel Servo CNC milling center has an operational range of 41 inches by 49 inches with a plunge depth of 7 inches. The resulting machining center that was set up has been used to develop programs that students could use to build items that are not only useful, but have value when completed.
Students begin by designing a program that is simple, using a CAD environment and post- processed in Master Cam 5.5 software to a DOS CNC servo driver package. Projects vary— something like a nameplate, sign, or illustration— to prove that the machine can make a part from a drawing. Once oriented to the machine, students can make projects of their own choosing.
Students are also given training on operating computers with CAD. An IBM-compatible Gateway 2000 system works exceptionally well for teaching computer skills as well as current technology. Because of the software utilized, students learn how to generate drawings, create files, transfer files and post them for production. Because of a statewide site license, students can use VersaCad 8.1 to make the drawings and translate their 2-D files to IGS files which import through MasterCam to the NC controller unit easily.
Once a project is approved by the instructor, the students can prototype the product and prepare to manufacture. Some of the related activities for their production may include ramming a mold in the foundry, machining the mold part square, turning a part on the lathe, cutting and welding metal, and forming sheet metal. Because of the number of students and the variety of tasks, the milling center has become a major component/workstation in the production processing. The size of the Techno-isel table makes it possible for a number of students to have multiple set-ups and production activities nested simultaneously.
The milling center at Prairie High School has been incorporated into the curriculum of the Construction Technology II class and Manufacturing I & II classes. User-friendly as the Techno-isel system is, there is high demand in classes for skill development in this area, and students aggressively seek time on the work station. When students qualify as operators of the CNC workcell, they become team leaders, possessing skills in setup, CAD, computers, and material processing.
Students in the program still learn how to program longhand. Using word processing and ASCII file transfer format, each student has an opportunity to learn "G-codes" and "M-codes."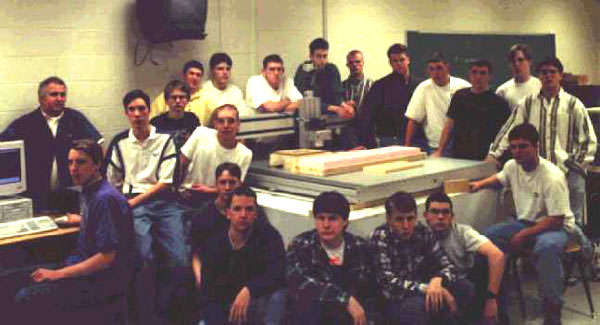 Because they are able to do multiple setups, students usually make some form of fixture to position on their part of the bed. They nest their production activity and are assigned a "home" area and asked to work around others. Present production activities range from CD-racks, gun racks, school clocks, parking signs, and personalized signs and engravings. Each product is designed with the precept that they are manufactured using team concepts and made in small batch quantities of 20 or less. Students are instructed in statistical process control and only quality work is allowed to move forward. The accuracy of the Techno-isel milling machine allows the group to see, as well as manufacture, superior quality products. The tasks of prototype development, engineering and re-engineering are tedious, but the Techno-Isel milling center has rejuvenated the Industrial Technology program at Prairie High School and has rapidly become an important and intergal part in teaching state-of-the-art manufacturing skills to the next generation.