CNC ROUTER REDUCES TIME NEEDED TO PRODUCE VEHICLE MODELS WHILE INCREASING THEIR ACCURACY

By Mark McCollough
3D Rapid Modeling Instructor
Art Center College of Design
Pasadena, California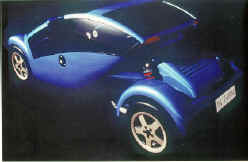 Utilizing CNC machining instead of clay modeling makes it possible to significantly reduce vehicle modeling time while substantially increasing the accuracy of the model. Previously, it took Art Center students hundreds of hours to produce clay models of their concept car designs by hand sculpting. With a CNC router, they produce designs that represent their concepts within a much smaller margin of error in much less time. By reducing the manual labor associated with vehicle design, CNC technology potentially gives the students much more time to spend on the creative process -– which is why they came here in the first place.
Art Center College of Design is an international center for art and design education located in Pasadena, California. An independent, nonprofit, four-year college, Art Center offers a bachelor of fine arts or bachelor of science degree in nine majors: Advertising, Environmental Design, Film, Fine Art, Graphic Design, Illustration, Photography, Product Design, and Transportation Design. Master's degrees (MA, MFA and MS) are given in Art Theory and Criticism, Film, Fine Art, Illustration, Photography, Digital Media, Transportation, Environmental Design and Product Design.
In the first four semesters of Art Center's Transportation Design program, fundamental skills are developed including concept sketching and 3D rendering. Principles of ergonomics, aerodynamics, research into new energy sources, and computer images to the design process are also investigated. There is also a strong emphasis on marketing and consumer preferences. In later semesters, students simulate professional design activity by completing projects sponsored by North American, European and Japanese auto manufacturers. Students collaborate with designers from these companies, who guide and critique their work. This exchange of ideas makes for an invaluable forum in automobile design, engineering and materials.
The traditional method of styling began with hand-drawn sketches which were eventually made into renderings. The more promising designs were fashioned as one-fifth scale models in clay by students in a process that was both labor intensive and highly iterative. It would typically take students up to 700 hours to create their clay models. Once they were satisfied with the model, they could use it to produce a form that later might be used to produce a durable fiberglass model. It was particularly difficult to maintain a symmetrical relationship between the different sides of the vehicle.
Through his work in private industry prior to joining the staff of Art Center, the author became familiar with the trend towards CNC machining as a replacement for hand-built models. This trend draws its strength from several factors that apply equally well to private industry as well as educational institutions. First of all, most current design work is, if not originally created with CAD, duplicated in CAD soon after it is created. Second, the price and ease of use of CNC machinery suitable for producing models has been dramatically reduced in the last several years. Finally, the increased use of CNC machining to produce models has driven up expectations concerning the accuracy and symmetricity of models.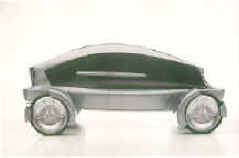 Not long after joining Art Center, the author proposed purchasing a light CNC machine suitable for model building. After getting approval to move ahead, he examined several different CNC approaches to determine which would best fit the needs and budget of the school. He first considered stereolithography apparatus (SLA), a commonly used method of producing prototype models, but determined that aesthetically critical parts with complex surfaces couldn't be produced with SLA since this technology makes tiny steps or facets in a curved surface. Next, he considered a traditional CNC machine tool. These machines, made by companies such as Bridgeport, start at $50,000, not including the CNC programming software. To get a model with a working area large enough to produce one-fifth scale models, Art Center College would have had to buy one of the larger machines costing at least twice that.
Then, the author remembered a machine that he had used in an earlier position at another workplace with considerable success. The Techno Series III gantry router from Techno-Isel, New Hyde Park, New York is similar in function to a CNC machining center. At about $22,000, the machine is considerably less expensive and designed for lighter duty work. Yet, it provides the same surface finish and accuracy as a machining center. Its working area of 49 inches by 41 inches with a Z-axis height of 10 inches, is larger than nearly all machining centers in the under-$100,000 price range. And the machine can handle virtually any type of material although it is limited to relatively small depths of cut in ferrous and other tough-to-machine materials.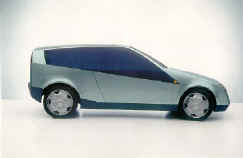 Based on his recommendation, the college purchased the Techno machine and gave students the option of using it for the design projects. Most Art Center students were able to learn to operate the new machine in a day or so. This was largely because the Mastercam CNC programming software, from CNC Software Inc., Tolland, Connecticut, supplied with the machine was easy to learn. Although originally designed for metal working, Mastercam is also well-suited for industrial design models because of its ability to generate the most complex contours with little programming effort. Mastercam includes IGES, DXF and CADL converters so that geometry can be uploaded from many CAD systems such as Pro/ENGINEER.
Art Center students begin by defining their concept design in a computer aided industrial design software package such as Alias, FormZ and SolidWorks. They export their model in the IGES format and import it into a CNC programming package called Mastercam from CNC Software, Tolland, Connecticut, to produce a file that the router understands. They generate the CNC program, then use the Techno machine to cut patterns from 3-inch thick sheets of 4-foot by 8-foot 7-pound or 15-pound density polyurethane foam. They machine the top and bottom halves of the car separately, drilling alignment holes in each half. Then they marry the two halves by inserting steel rods into the holes and gluing them together. The foam model is then used as the pattern to produce a mold that casts the fiberglass model. The time needed to produce detail components, such as tires, is also dramatically reduced.
The Techno machine's .0002 inch resolution and repeatability and 0.003 inch absolute accuracy ensure that the foam models are faithful representation of the designs created on the computer. This is critical in an industrial design application since the models must give the client an accurate likeness of the eventual end product. The Techno machine's accuracy is the result of several features inherent to the table, such as the use of ball screws and servo motors. For example, anti-backlash ball nuts permit play-free motion that makes it possible to produce accurate circles and inlays. The ballscrews have excellent power transmission due to the rolling ball contact between the nut and screw. This rolling contact also ensures longer life and greater rigidity during the life of the system because of the reduced wear as compared to ACME screws and nuts or rack and pinion systems, which have a sliding friction contact.
In approximately 300 hours of operation, Art Center College has had no problems with the Techno machine. This is partly due to the strength and rigidity of the table, which is constructed from extruded aluminum profiles that provide easy clamping capability. The machine also has four ground and hardened steel shafts and eight recirculating bearings in each axis. This shaft and bearing system produces very smooth play-free motion and an extremely rigid system that produces high-quality cuts.
Art Center College students have found that the new approach to model building, while seemingly addressing the mechanical aspects of design, actually has a major impact on the creative process. First, the Techno CNC machine gives the students unlimited freedom because they know that they can build anything that they can draw on the computer. Most important, the Techno CNC takes much of the drudgery out of model building and can save them about 400 hours per model that they can put to good use in developing new concept designs.
Perhaps the greatest benefit of the new CNC approach comes after the initial design is complete. Because the design is produced in electronic format and the modeling process is largely automated, students can easily change their designs and generate a model. In the past, the amount of time required to make changes was so great that it often couldn't be done. By reducing cycle times and giving students the opportunity to improve their designs, the new approach lets students take advantage of the latest "design to model" techniques that reduce time to market in the industrial world.
Photos: Steven A. Heller/Art Center College of Design